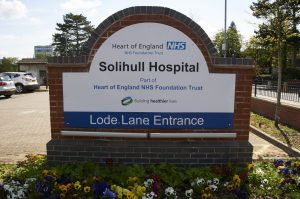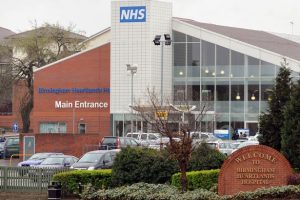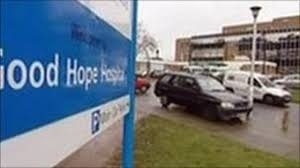 Staff Parking
The Heart of England NHS Foundation Trust provides on-site parking for staff at our three hospital sites totalling 3,215 spaces. Each parking area has an entry and exit barrier and access is via a staff member's ID badge where they are paying for a staff parking permit. All staff using our car parks must display a valid permit in their vehicle on the front windscreen and the Trust have an online parking system to enable you to register for a parking permit, update or change any information that is currently held for you.
You can access the online system via the Trust intranet page via the 'P' icon at the top of the page or via the following link: Car Parking Application
Please note, if you receive an error message when you try to log in, ignore this and click on continue to the website. If a message appears regarding 'Java' press refresh (F5).
You will first need to register as a new applicant; please ensure you keep your login details as this will allow you to make any changes in the future.
You do not need a Trust email address to apply for a permit. Please note payment can be made by card direct online for non Trust staff. Parking fees will be deducted from salary on a monthly basis for all Trust staff.
The Trust provides the following staff parking facilities:
Heartlands Hospital
We currently have a total of 981 on-site staff parking spaces at Heartlands split over four areas that can be accessed via the rear entrance to the hospital on Yardley Green Road, and 784 off-site spaces on our Multi-storey and Overflow car parks located on Yardley Green Road which is a 3 minute walk from the entrance.
There are blue badge holder spaces dotted around site with the majority located in the area to the rear of Children's OPD.
Good Hope Hospital
We currently have 719 on-site staff parking spaces at Good Hope which are split over two areas and can be accessed via our Bedford Road and Rectory Road entrances. There are staff disabled bays located outside the Porters lodge, on the cemetery side staff car park and to the rear of the Trust HQ building.
Please note there is currently a waiting list in operation for this site.

Solihull Hospital
We currently have 731 on-site spaces which are split over four car parks and can be accessed via our Union Road, Grove Road or Lode Lane entrances. There are blue badge holder spaces located in each of our staff car parks.
Trust Parking Policy
There is a Trust parking policy in place to ensure all users of our parking facilities adhere to our guidelines which can be found on the Trust's intranet via Estates or by clicking on the following link: Car Parking Policy
Please ensure you are familiar with the Parking Policy. Anyone who fails to follow the policy may find that they receive a warning, a parking fine or a possible ban.
If you have received a PCN and wish to appeal, in the first instance please appeal via the instructions on the ticket. Appeals and payments must be made to Island Group via the below details. Please note that the car parking team do not deal with appeals of any nature, and if you are unsatisfied with how your case is handled or are having difficulty contacting Island Group please email Parking Email please do not contact this address to make your appeal as it could cause a delay and result in you having to pay the full parking fine rather than the reduced fee which is £30 if paid within 14 days or £60 thereafter.
Payment Method
By Website: Island Group Website
By Phone: Credit/Debit card details by calling 0845 873 0951
By Cheques or postal order made out to:
Island Parking Solutions Limited
QD House, Norfolk Street,
Liverpool
L1 0BG
Appeals must be received within 21days of the date of issue to Island Group Parking Appeals
The following info must be provided
PCN Number
VRN
Your Full Name and Current Address
Full Details of the basis of your appeal
For all other queries please contact the Estates team via email: Car Parking Email or via 0121424 0678 (externally) or via x40678 (internally).
Visitor Car Parking Tariff
30 minutes Free
2 Hours £3.10
4 Hours £5.10
6 Hours £7.20
24 Hours £10.20
Car Parking Manager Karen Eden 0121 424 0678
Staff Parking Tariff
PERMIT TYPE

MONTHLY TARIFF

Standard Full Time (greater than 25 hrs/week)

Example: Employees on Band 1 point 2 or point 3.

£10.00
Standard Part Time (less than 25 hrs/week)

Example: Employees on Band 1 point 2 or point 3.

£5.00
Standard Full Time (greater than 25 hrs/week)

Example: Employees on Band 2 points 4 to 8.

£18.00
Standard Part Time (less than 25 hrs/week)

Example: Employees on Band 2 points 4 to 8.

£9.00
Standard Full Time (greater than 25 hrs/week)

Example: Employees on Bands 3 to 8b and employees on other pay grades who earn less than £56,665.

£30.00
Standard Part Time (less than 25 hrs/week)

Example: Employees on Bands 3 to 8b and employees on other pay grades who earn less than £56,665 (pro rata).

£15.00
Standard Full Time (greater than 25 hrs/week)

Example: Employees on Band 8c and employees on other pay grades who earn more than £56,665 (pro rata).

£50.00
Standard Full Time (less than 25 hrs/week)

Example: Employees on Band 8c and employees on other pay grades who earn more than £56,665 (pro rata).

£25.00
Yardley Green Site only Full Time (greater than 25 hrs/week) offsite criterion applies.

Example: Employees who are not multi-site car park users on Bands 3 to 8b and employees on other pay grades who earn less than £56,665.*Multisite

£25.00

*£30.00

Yardley Green Site only Part Time (less than 25 hrs/week) offsite criterion applies.

Example: Employees who are not multi-site car park users on Bands 3 to 8b and employees on other pay grades who earn less than £56,665 (pro rata).*Multisite

£12.50

*£15.00

Governors, Volunteers and B Braun (contractual agreement)
Free

Students

£15.00
Subsidised Tariff for Community staff  who spend 50% + of their time in the community

Standard Full Time (greater than 25hrs/week)
£15.00
Standard Part Time (less than 25hrs/week)
£7.50